LEARNING MATERIALS
Resilience Academy builds e-learning materials supporting student's urban resilience skills in classrooms, off-campus and during the internships. Our learning materials consist of four main themes and they are open for anyone to learn, together or just by yourself.
THEME 1: OPEN DATA FOR RESILIENCE
Having open access to geospatial information and digital data sets in a pre-requisite for understanding risks and developing evidence-based solutions for resilient urban development. Theme 1 is about learning digital geospatial data quality, management, visualization, and data sharing skills to encourage and stimulate both academia as well as practitioners for improved resilience decisions in the society.
THEME 2: FLOOD RESILIENCE IN A CHANGING CLIMATE
Rapidly growing cities are increasingly vulnerable to climate change. Flooding is one of the most destructive hazards causing both socio-economic and social threats and losses. Theme 2 creates improved skills to understand the underlying risks related to changing climate, as well as practical digital skills to measure, map and predict floods in infrastructure poor and rapidly growing cities of the Global South.
THEME 3: COMMUNITY MAPPING FOR IMPROVED RESILIENCE PLANNING
Community participation makes urban planning effective and empowers the communities to cope with different type of risks in their living environment. Theme 3 creates a knowledge base and digital skills to use different community-driven methods and practices with location-technology solutions for mapping local risks and planning sustainable cities of the future.
THEME 4: EARTH OBSERVATION FOR RESILIENCE
Novel earth-observation instruments and improved access to vast catalogues of remote sensing data have shifted the ways urban growth and quality of living environment is mapped and monitored. Theme 4 provides practical skills to UAV technology (drones) and digital satellite and drone image data processing. It also introduces different solutions to use earth observation data in combination with other digital data sets for sustainable urban development.
The training has helped me as an Urban Planner in Dar es Salaam city to help decision making for Resilient City. It has also well adding values in my studies related urban planning.
In generally I like this training because for many ways it shapes us and make us to became comptent in many activities both theoretically and practically.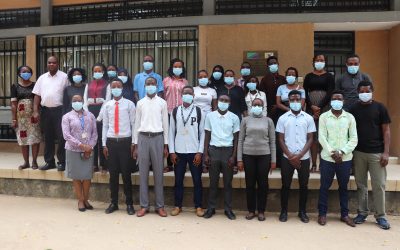 Written by Msilikale Msilanga Group photo of University students, university staff, and OMDTZ team. This Month; July 2021, the Resilience Academy is partnering with OMDTZ, The World Bank and other partners to engage university students from UDSM, ARU, SUA and SUZA to...